Discovery Automotive aka Area-51 is the facility that caters to unique vehicles that become high performance exotics during their stay with us. We do not specialize in a particular marquee but rather we specialize in providing the most extreme and personalized service during the processes of creating one-of-a-kind modifications and personal components that are not typically found on your dealer's shelf. Whether it is accentuating your existing modifications, subtle to extreme and yet always unique personal touches, or something as jaw dropping as super-charging your Murcielago, Discovery Automotive remains committed to exceed your every expectations as we have done so for many before you. Discriminating automotive enthusiasts agree that our unique approach to projects places our facility in a class of its own.
Over the years there have been many magazine articles written about Discovery Automotive and the many unique projects. There have been several memorable comments shared within BMW Car Magazine. Eric Eikenberry said, after spending time with two of the completed projects, "At first glance under either bonnet, with the exceptions of acres of carbon fiber and a terrifically entertaining Vortech S-2 supercharger, one could simply assume that this was a factory produced design study. Clearly, these aliens do not subscribe to the 'advertise your logo everywhere' theory which afflicts certain 'tuner' cars. Both appear constructed to satisfy a higher form of intelligence. Visible parts are machined perfectly, then powder coated, anodized, or polished. Wires are installed in looms and designed with future maintenance in mind. Every detail has been so thoughtfully wrought from raw material that trying to find a flaw is a waste of time. Time which could be better spent driving fast." Once he spent time behind the wheel of each of them he said, "These two engines are so powerful that not only will you 'See Jesus', but you'll be able to make a proper introduction if you're not careful with the throttle."
We hope that you enjoy your visit to Discovery Automotive and while you are here we encourage you to read the articles all of which may be found in our Articles section.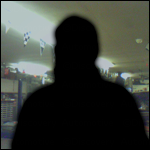 Shadowman

For the past 30 years Shadowman's passion and creativity supported by the talented Discovery Automotive team has resulted in one world class project after another. Shadowman approaches every project as if it were his own never wavering on his commitment to excellence or losing any of the passion that drives him. Shadowman and the Discovery Automotive team look forward to being able to help design a project that is right for you and in doing so make your dreams come true.