If you've ever been the sort to wonder just what a BMW master Technician would choose to drive, wonder no more. We've spent more then a year chasing this car and, as we are now happy to report, nearly everyone else should be chasing it too. Despite its nearly stock appearance, this car is a prime example of what a talented technician can accomplish within the realm of tasteful and effective modifications.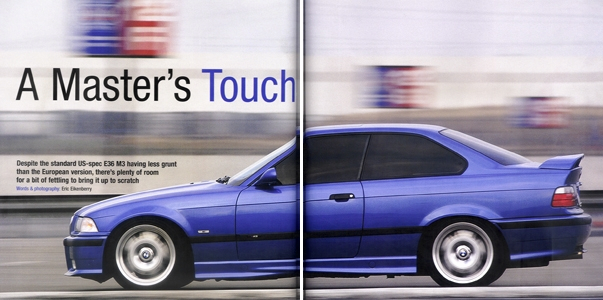 If Noe Alduenda's name sounds familiar to our readers its only because it should be. In addition to his day job as a technician at BMW of San Diego, Noe spends a few weekend a month in Placerville, California helping Bill Knobloch's Discovery Automotive assemble some of the wickedest, cost-no-object M5s ever created. In the last year, several of Bills creations have also graced these pages sporting Vortech superchargers and ever increasing levels of boost. Noe's car is admittedly tamer then those monster M's, but that's only because he has to pay his own way. This isn't to say it's slow.
Engine mounted centrifugal boost isn't cheap, and to date, you can count the number of kits available for the E36 M3 on one hand. As of this moment, this is the only boosted E36 car from Discovery, but given its ability to generate nearly 400 stomping ponies at the rear wheels, it certainly wont be the last. We drove it and can report that everyone needs one! It's the automotive equivalent of an immediate cure for erectile dysfunction in an Estorli blue metallic shell!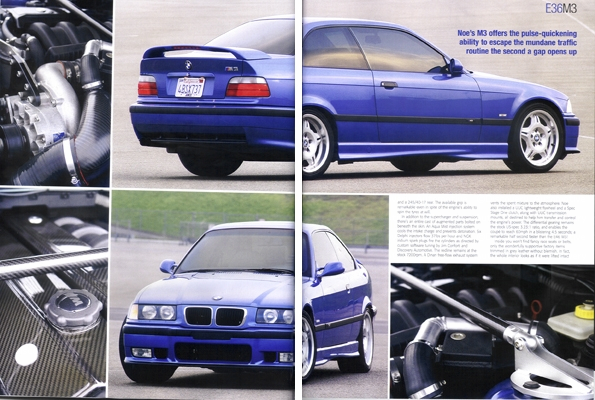 The boost, all twelve pounds of it, lands instantaneously once the gas pedal is pressed. Thrust, never lacking in an unmodified M3, feels redoubled and causes the back of the car to wiggle enthusiastically whenever the rear tires scramble for traction. While behind the wheel we temporarily caused Noe's knuckles to go white on the armrest, despite his assurance of confidence in our ability to plot what amounts to race car power in a street driven vehicle. We respond by not wrecking it when we slide luridly on a trickle of water while crossing and intersections.
That we couldn't shoot Noe and his M3 was not due to any failing on Noe's part or our own, but simply the lack of an available suspension under the car. Once upon a time, he placed an order for the suspension and, pending its arrival, sold all of his relevant parts (springs, shocks, and anti-roll bars) to another enthusiast. Unfortunately, his parts never arrived. Months went by, and we called repeatedly, always hearing Noe's friendly voice saying, "nope, the cars not ready yet, but it will be soon." Thankfully we never grow tired of seeking out opportunities to test incredible cars, and eventually, one such call was met with an affirmative.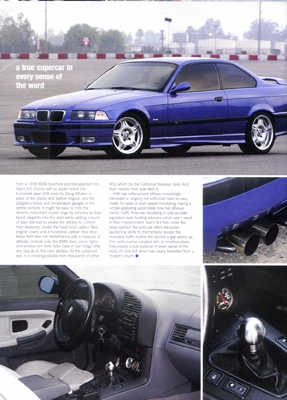 By this time, UUC Motorwerks had been called to the rescue as a source of reputable underpinnings for Noe's special steed. The company's stage four package of Sachs performance springs, custom tuned shocks, and adjustable Sway Barbarian anti roll bars was purchased and installed. Polyurethane bushings were pressed into place on the front and rear control arms, providing precise control of their motion during the hard cornering encouraged by the firm suspension. On our drive we found body motion to be very well controlled; not to harsh. It would be a dangerous mistake to make a boosted M3 ride like a brick as the car might skate nervously over the surface imperfections. This is one core concern of every M3 owner who desires a solid improvement in cornering performance, yet fears crossing that unstreetable line. We can assure you That Rob Levinson, UUC's owner, has done a terrific job sorting out this package. UUC's method of systematic upgrades allows an enthusiast to move in steps, as allowed by budget, or as track time increase. The OEM wheels were mated to Michelin Pilot Sport tires in a suitable 225/45-17 front size, and a 245/40-17 rear. The available grip is remarkable even in spite of the engine's ability to spin the tires at will. In addition to the supercharger and suspension, there's an entire cast of augmented parts bolted on beneath the skin. An Aqua Mist injection system cools the intake charge and prevents detonation. Six Delphi injectors flow 37lbs per hour and NGK iridium spark plugs fire the cylinders as directed by custom software tuning by Jim Conforti and Discovery Automotive. The redline remains at the stock 7200rpm. A Dinan free-flow exhaust system vents the spent mixture to the atmosphere. Noe also installed a UUC lightweight flywheel and a Spec Stage One clutch, along with UUC transmission mounts, all destined to help him transfer and control the engine's power. The differential gearing remains the stock US-spec 3.23:1 ratio, and enables the coupé to reach 60mph in a blistering 4.5 seconds; a remarkable half second faster than the E46 M3!
Inside you won't find fancy race seats or belts, only the wonderfully supportive factory items trimmed in grey leather without blemish. In fact, the whole interior looks as if it were lift intact from a 1998 BMW brochure and transplanted into Noe's M3. Purists will no doubt notice the burnished steel shift knob by Doug Whalen in place of the plastic and leather original, and the obligatory boost and temperature gauges in the centre console. It might be easy to miss the chrome instrument cluster rings by Umnitza as they blend elegantly into the dash while adding a touch of élan. We had to review the photos to confirm their existence. Under the hood UUC carbon fibre engine covers and a functional, carbon fibre strut brace from Ben Fer Performance add a measure of attitude. Outside only the BMW clear comer lights and window tint from Solar Care in San Diego offer any clue as to this car's abilities. To the untrained eye, it is indistinguishable from thousands of other M3s which ply the California freeways daily. And that's exactly how Noe likes it.
With law enforcement officers increasingly interested in singling out enthusiast rides as easy marks for radar or laser speed monitoring, having a simple-appearing automobile now has obvious merits. Traffic fines are increasing in cost as state legislators seek funding solutions which won't result in their impeachment. Noe's M3 flies under the radar (pardon the pun) yet offers the pulse-quickening ability to momentarily escape the mundane traffic routine the second a gap opens up. This performance, coupled with its timeless-classic lines equals a true supercar in every sense of the word. It's one M3 which has clearly benefited from a 'master's touch.'