Z8 or M5 not fast enough? Want to reach warp factor eight? Then you'll be needing a supercharger system from Discovery Automotive

words and photography by Eric Eikenberry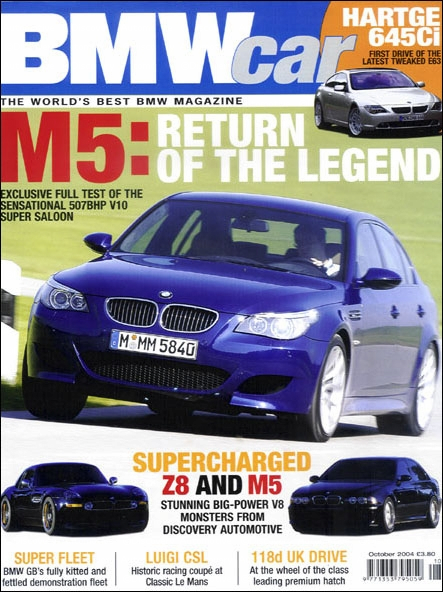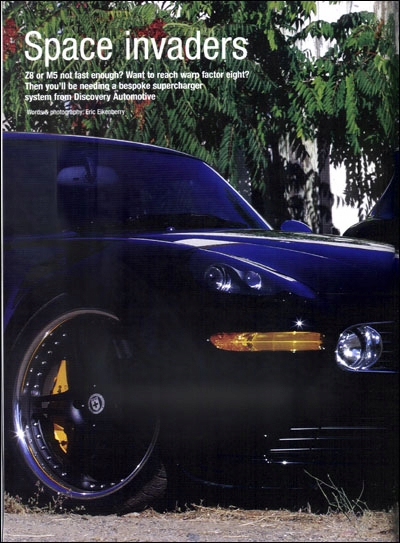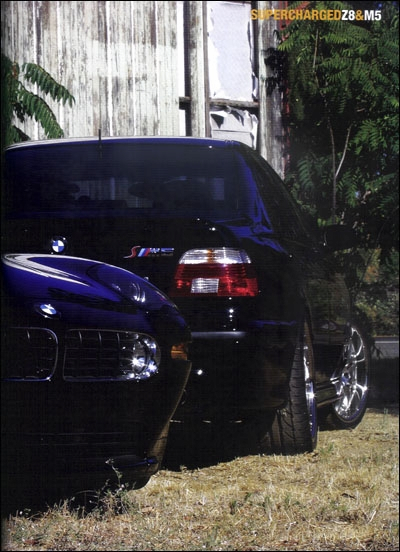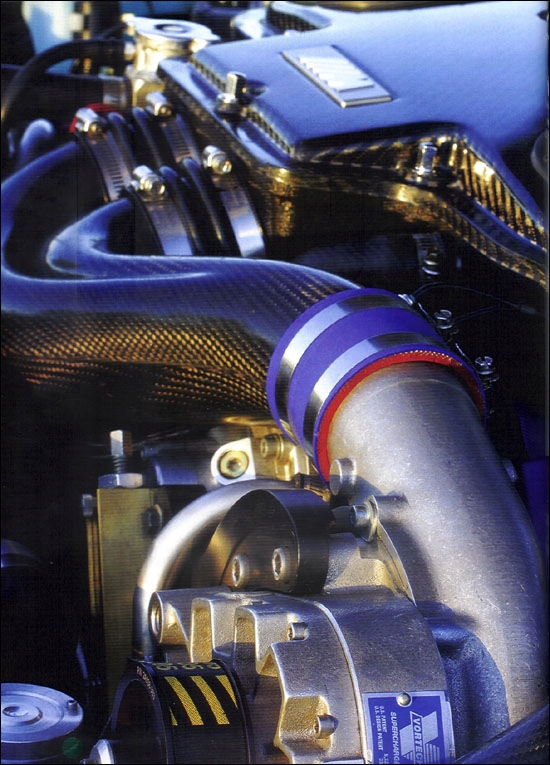 Aliens walk among us, I am not kidding. I'm convinced one hundred percent. their headquarters, tucked back in the Sierra foothills, South East of Sacramento, California, is the home and shop of Bill Knobloch, engineer by interest, business consultant by profession, and purveyor of alien technology for the street. It would stand to reason that a superior intelligence, accustomed to galaxy-spanning power from a space ship, would demand the same performance from the primitive contraptions we use daily to commute around on terra firma. For Bill, or 'Shadowman', as he's better known to his friends and associates, there is no such term as 'fast enough'. He and his army of cohorts work in secrecy, his shop shrouded by trees and surrounded by fences. Even the power gate works by remote control. Inside, it's not uncommon to find classic cars, trucks, or hot rodded Harley's hanging about. he sees no need to limit his interest to one make, model, or even type of vehicle. All are equally entertaining when in need of modification and of course they all need modification!
Speaking of modification, both of these cars carry superchargers. Fans of BMW's already know of the wonders of the S62 V8 engine. They know how these engines make incredible horsepower and use individual throttles with tuned length air horns all inhaling from within the same massive air box. They've raved about VANOS valve controlling technology. They do not know about the difficulties associated with forcing 6-11 psi of boost into an already high compression engine. Bill clearly does. In the entire world there may only be a handful of individuals who can do this successfully; they all work for Bill...probably. His system is not for sale in kit form. You cannot call up your favorite tuner and order the components. This is intentional. If improperly assembled or tuned, you'd best learn to speak German in order to get a reasonable deal on a new engine. In Bill's book, there's just one way to do this; his way or no way at all.
At first glance under either bonnet, with the exceptions of acres of carbon fibre and a terrifically entertaining Vortech S-2 supercharger, one could simply assume that this was a factory produced design study. Clearly, these aliens do not subscribe to the 'advertise your logo everywhere' theory which afflicts certain 'tuner' cars. Both appear constructed to satisfy a higher form of intelligence. Visible parts are machined perfectly, then powder coated, anodized, or polished. Wires are installed in looms and designed with future maintenance in mind. Every detail has been so thoughtfully wrought from raw material that trying to find a flaw is a waste of time. Time which could be better spent driving fast.
How fast? The M5 can see a gear limited 191 miles per hour when wound to its limits. it also blasts out a 3.9 second 0-60 run and flashes through the quarter mile in 11.8 ticks while tripping the light at 127mph. This equates to approximately 500 hard charging ponies and 450lb ft of torque. Do you need more? The Z8 produces over 750hp at the crank, and more then 600 at the rear wheels, but isn't a package designed for Joe Public. 'There's 10,5lb of boost being fed into the engine at its peak', says Bill. Fed into a stock bottom end, I should mention. Schrick cams from Denon aid the influx of air into the Z8's mill while a Hamann exhaust, headers, a pair of small metal bed catalytic converters, and free flowing mufflers ease its egress. These two engines are so powerful that not only will you 'See Jesus', but you'll be able to make a proper introduction if you're not careful with the throttle.
Pressing down on the gas pedal in the M5 produces instantaneous galactic thrust as the digital boost gauge entertainingly jumps from 0.0 to 5.0 before slowing to a maximum of about 6.5lb. The car leaps forward in any gear when above 2500rpm, and the well weighted six speed shifter encourages you to keep the engine on full boil. Exceeding the speed limit is ridiculously easy in third gear. The suspension is at once both firm and forgiving, allowing complete control of the body motion yet absorbing pavement cracks and holes with aplomb.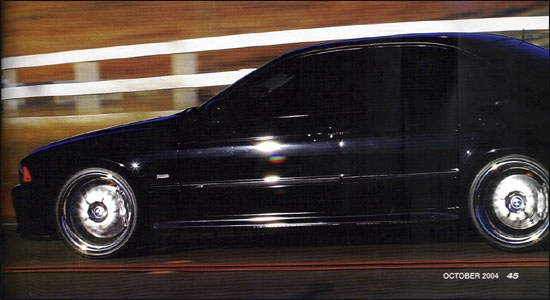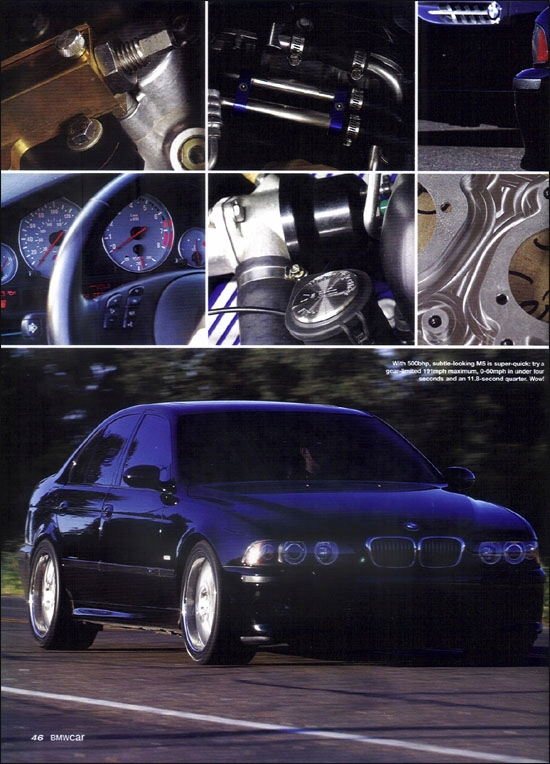 "With 500bhp this subtle-looking M5 is super quick: try a gear-limited 191mph maximum, 0-60mph in under four seconds and an 11.8-second quarter. WOW!"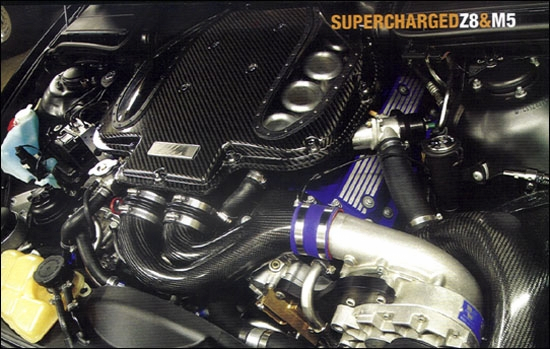 "Pressing down on the gas pedal in the M5 produces instant galactic thrust"
As my chauffeur and part time helper to Bill, proved second and third gear are amazingly effective giggle-producers. Despite the power on tap, the M5 never feels "out of control" to the driver. Brakes, tires, suspension, and steering all provide the feedback necessary to tame the engine's willing nature. It is a beast at heart, but a gentle one unless provoked.
If "cleanliness is next to godliness," then meet divinity incarnate. The chargecooler sits inside the airbox, between the cylinder banks, right where the BMW's "box of plastic snakes" once resided. Water hoses route through sealed fittings in front, then over to tubing connected to the side of the front engine cover. The harness inside the airbox controls eight additional fuel injectors utilizing military-spec fittings and attachments, and can be disconnected from the passenger side of the box with a single Deutsch connector. An electro-mechanical boost bypass valve prevents damage from occurring when the throttle plates close under boost. It also aids the transition from on- to off-throttle by relieving the pressure in the box as the engine returns to idle. The belt system features a spring-loaded tensioner which prevents unhealthy forces from being introduced to the crank. The valve covers glow, coated with shiny red or blue depending on the car powder-coating designed to fool the viewer into thinking that the matte-black VANOS covers at the front of each cylinder bank are separate pieces. In reality, they are one and the same.
Bill likes black. Perhaps the aliens do too. I'm sure not all of his projects end up this color, but during my visit, to quote Henry Ford: "The customer can have any color he wants, so long as it's black." You can forget all about other hues being referred to as 'the new black' in this discussion. Seat leather: Black. Steering wheel: Black. Carbon Fiber, custom built airbox lid: um you guessed it, another shade of black. Speaking of the lid, I was shown two variations, and was hard-pressed to pick a favorite. On the M5, the cover features prominent industrial-grade Lexan portals which allow the metallic machined-aluminum sculptures disguised as air horns to be seen while in operation. The Z8's cover was simply elegant glossy carbon fiber, without the outrageous viewing portals. They both featured a machined-billet "M" insignia boldly positioned in front of the dual inlet tubes. In his obsessive fashion, that little piece is actually made by Doug Whalen from five individual pieces machined separately and pressed together. It will never be a mass-produced part, so don't ask for one for your car.
Where most would be content to simply make do with a plastic or molded silicone boost tubing, Bill's creations again utilize incredibly complex forms made from carbon fiber. The cost associated with the creation of these lightweight and curvaceous couplers simply shows the lengths to which he's gone to produce the most comprehensive package for the bavarian V8.
There are two more V8 motors hidden at the machine shop while being converted to a low compression, fully-built bottom end configuration. Bill is looking to take the boost over 20psi, and is willing to trade some lower-end grunt for top-end thrust. A number over 750hp at the wheels was discussed as "very realistic" with torque approaching 650lb ft. Do not plan on owning one. Once these "best of the best" beauties are complete the program will be complete. No more will be built. When a masterpiece is finished, why duplicate it?
In person, the Z8 was at once awe-inspiring and frightening to behold. It looked as if a Jaguar E-Type went out slumming one night and picked up a Shelby Cobra Daytona Coupe for a torrid tryst, neither party speaking again after the coming of the morning light. This is not to say the result isn't a looker. The muscularly flared fenders have no problem engulfing incredibly beautiful HRE 20-inch three piece wheels and the Pirelli P-Zero Rosos. One-off pieces at the time of the projects inception, the HRE's are now available in the regular catalogue, for a price. Their flat black anodized spokes, a split five-star design, looked perfect; the highly polished lips glowed with the reflection of the yellow eight-piston Brembo front calipers and matching four-piston rears.



SPECIFICATION - 2001 BMW M5




ENGINE AND TRANSMISSION:


Stock internally Vortech V-2 Supercharger, 6.0lb in maximum boost Aquamist dual-injector programmable water/methanol injection system, Supersprint headers, OEM catalytic converters, Tubi cat-back exhaust, UUC single-mass aluminum flywheel with serviceable steel face, UUC oversize throw-out bearing, OEM six-speed gearbox with UUC short shifter and Doug Whalen stainless steel gear knob




SUSPENSION:


Dinan coil springs and shocks, Dinan anti-roll bars




WHEELS:


19" Breton Spirits with BMW roundels inserted




TIRES:


Front 275/35 Bridgestone Potenza S03

Rear 285/30 Bridgestone Potenza S03




BRAKES:


Front Brembo 4 piston calipers, 13" rotors

Rear Brembo 4 piston calipers, 13" rotors




REAR DIFFERENTIAL:


Dinan 3.45 gear set, OEM limited-slip diff




The 'all black and chrome' theme made the car appear to float as it raged by on the road. Reflected light bent wildly off the curved flanks and rear. It wouldn't be hard to imagine it as the ultimate development of stealth technology.
Underneath the Z8, a fully adjustable coilover system from hamann maintains perfect tire-to-road contact, no matter how poorly California 's roads are maintained. The look is low and lean, each wheel appearing 'tucked' but not 'slammed'. This is, after all, a supercar meant to be driven. The factory's front air dam remains, but hides a sizeable air-to-water heat exchanger and two cooling fans within its dimensions. The difference between the styling of the two cars couldn't have been more dramatic if it were a Chevrolet Cavalier parked next to a Corvette! It was hard to believe that both were produced by the same car company within the same decade. Photographing them together was nigh-on impossible, as the paint made it difficult to tell where one car ended and the other began. The M5 appears 'purposeful' and 'poised', with a decidedly-noticeable rake from the back to front, courtesy of the Dinan springs, shocks, and anti roll bars. Behind the lower mesh grille (also done in black) sits the intercooling system's heat exchanger. Block-off plates on either side force air at the front of the car directly through the core, increasing its efficiency. The 19-inch Breyton Spirit three-piece rims (could I ever grow tired of the mesh-look on a BMW?) with silver-finished centers, BMW roundels, and polished lips perfectly compliment the silver Brembo brakes. M5 owner Bryan Bloch chose these particular wheels due to their similarity to the original 18-inch wheels, but wanted extra size, both in diameter and width.
Bridgestone Potenza S-03 W-rated tires in a 275/35 front and 285/30 rear provide supercar levels of grip. The overall effect is an understated look for the distinguished d alien who doesn't wish to draw attention, yet values luxury with an extreme performance edge.
Say what you like about high-revving small-displacement engines, but a V8 simply sounds 'correct' to American ears. These Germanic examples burble and pop, snarl and growl just as loudly as any of their domestic brethren might. Due to its Supersprint headers and Tubi exhaust, the M5 abruptly announces its presence with a basso profundo manner. Bill cleverly integrate d a Z8 push-start button into the center console, in the space once occupied by the cigarette lighter. This particular modification is so innocent that I assumed all M5s were so equipped. The Z8, due to more aggressive tuning, smaller drive pulleys, and its free flowing dual exhaust, supplied more then enough bark to counter its visible bite. Bill repeatedly attempted to deafen me during his photo runs as he'd down shift and whack the throttle wide open while passing me! The Z8s engine note was even loud enough to penetrate the library-like silence inside the confines of the M5 during one of his brief 'lets show what this'll really do' bursts of acceleration. It is not what you'd call subtle.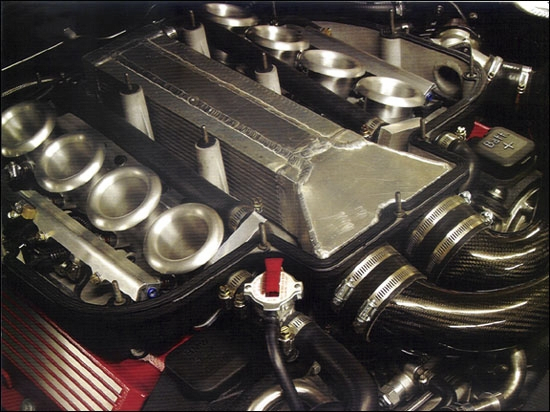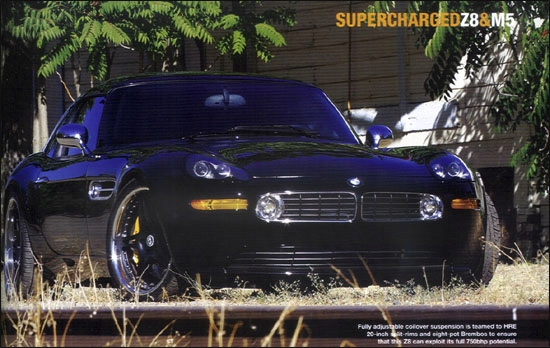 "Fully adjustable coilover suspension is teamed to HRE 20-inch split rims and eight-pot Brembo's to ensure that this Z8 can exploit its full 750bhp potential."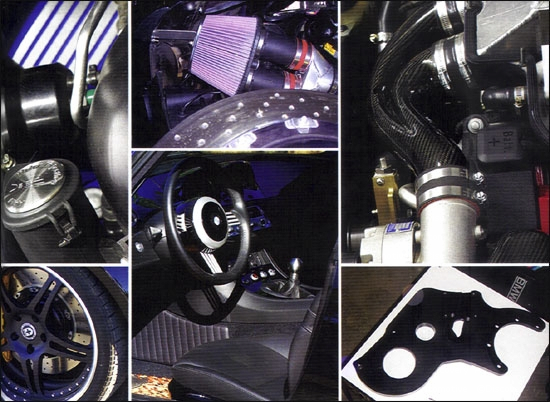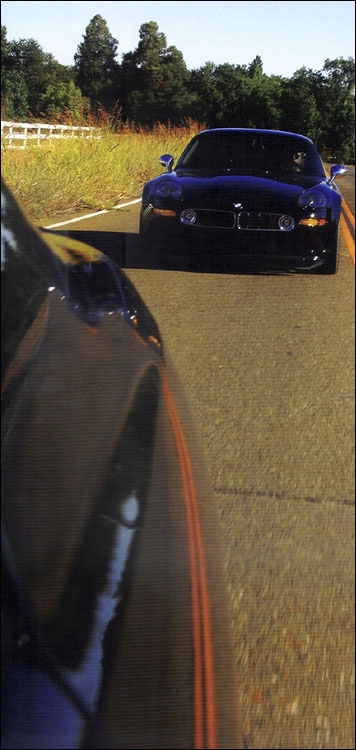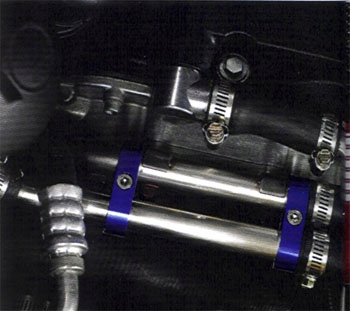 Short shifters from UUC made their way on to both cars, topped with stout, stainless steel, custom-engraved gear knobs by Doug Whalen. Additionally, the cars utilize UUC's lightweight, single-mass aluminum flywheel with a serviceable steel face. The Z8 requires a six-puck ceramic-metallic clutch while the M5 benefits from the smooth, progressive action of a 280-millumeter organic disc and pressure plate. OEM feel was retained for the M5, but lighting fast shifts become possible (and enjoyable) due t the lower inertia of the flywheel in both machines. Out back, the M5 spins a Dinan 3.45:1 gear set in the rear differential and the Z8 attempts to pulverize a Quaife with 3.64:1 gears sourced from Brett at Koala Motorsport. The strength of the invisible hand which drives one into the seat's deliriously supple leather indicates that either car could pull taller gears, and a higher top speed, with considerable ease.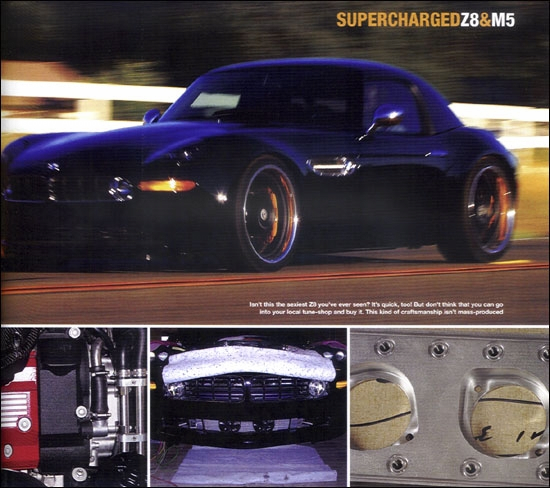 "Isn't this the sexiest Z8 you have ever seen? It's quick, too! But don't think you can go into your local tune-shop and buy it. This kind of craftsmanship isn't mass produced."
Trick parts abound so Bill provides a CD of photos and documents with each project he builds. An owner can receive maintenance from any capable shop, in any country. His strict adherence to serviceability resulted in O-ring-gasketed airbox connector plates being machined from aluminum. They replace the rubber 'compliance gaskets' from BMW and guarantee no loss of pressure, yet can be removed and reinstalled at a moments notice with simple hand tools. The carbon fiber airbox covers feature metal inserts to prevent the bolts from damaging the fiber/resin mix. Likewise, the supercharger's boost tubing hides machined aluminum collars inside the clamping areas, again eliminating the chance that a mechanic could damage those parts with overzealous tightening.
It's apparent that the list of modifications is nearly endless. The clutch/cooling fan assembly has been replaced by a thermostatically-controlled electric unit.
This measure prevents costly carbon fiber damage should a catastrophic clutch failure occur. In the Aquamist system, programmability abounds, with two nozzles firing into the bottom of the boost tube where it meets the airbox. Dual accumulators ensure adequate pressure to he high speed valve which supplies the injectors with the water/methanol mix, keeping each engine happy at maximum boost. Dual mass airflow meters are mounted on a custom (what on these cars isn't custom?) aluminum bracket/tube, which in turn mates to the bottom of the supercharger's carbon fiber intake runner. Hidden low behind the front left headlight, the mesh-and-oiled-cotton air filter draws cool air from behind the air dam. Bill is evidently conversant in bits as well as boost. Not only is the OEM DME sporting modified settings, there's also two additional laptop-programmable computers and eight relays keeping tabs on the complex and interconnected network of performance goodies. The net effect is one of seamless integration with all factory hardware, From the drivers seat, only the digital boost/EGT stands as an indicator of all that occurs on the other side of the firewall.



SPECIFICATION - 2002 BMW Z8




ENGINE AND TRANSMISSION:


Stock bottom end Vortech V-2 supercharger, 10.5lb in maximum boost Aquamist dual-injector programmable water/methanol injection system, Schrick cams, Hamman stainless steel headers, cats and exhaust, UUC single-mass aluminum flywheel with serviceable steel face, UUC 280mm six-puck ceramic metallic clutch and pressure plate, UUC oversize throw-out bearing, OEM six-speed gearbox with UUC short-shifter and Doug Whalen steel gear knob




SUSPENSION:


Hamann fully-adjustable coilover shocks




WHEELS:


20' HRE three-piece Split five-spokes custom built




TIRES:


Front 245/35 Pirelli P-zero Rossos, Asimmetrico

Rear 285/30 Pirelli P-zero Rossos, Asimmetrico




BRAKES:


Front Brembo 8 piston on 15" cross drilled vented rotors

Rear Brembo 4 piston on 13.6" cross drilled vented rotors




REAR DIFFERENTIAL:


Quaife, 3.64:1 gear ratio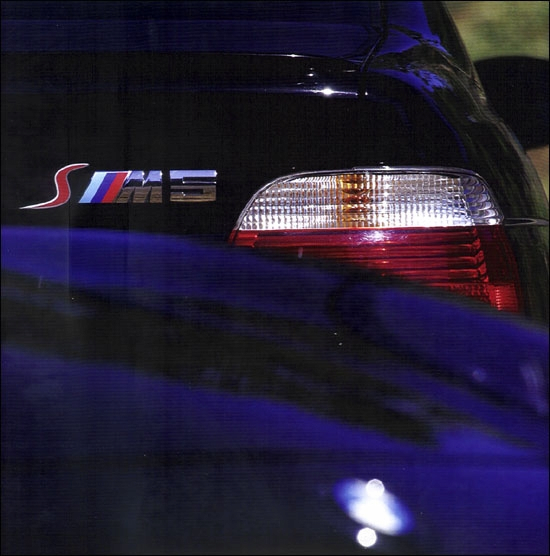 It should also be noted that the clean appearance of the M5's boot hides many hours of labor. The infinity Bass-link sub-woofer is mounted on custom 'feet' and now remains firmly bolted into place during even the wildest maneuvers. The DVD/VCD/MP3 player has been conveniently hung under the rear deck. The factory CD changer remains in its familiar left corner location. Ample room for several golf bags remain (a golf bag is the de facto standard of measurement for luxury trunk space in the United States). The boot of the Z8, by comparison, remains factory standard issue. No extra weight wanted or needed. The engine's mechanical symphony plays forth undisturbed.
This is stress-relieving for me. I build one project per year, whether I need it or not, and often during the course of the project, it will end up sold to one of my customers,' Bill says. Is shop, known as Discovery Automotive (www.discovery-automotive.com) , has made a word of mouth reputation over the years by churning out only one unique, finely-finished piece of rolling artwork at a time. He's quick to point out that producing a profit is not the main goal of his garage of dreams.
Producing only the best possible product, regardless of cost or time, using the superlative talent of individuals worldwide is the Shadowman's way. Like a puppeteer, wielding strings in a mechanical dance, Bill has woven components as diverse as off-the-shelf OEM pressure switches and custom fabricated CNC machined aluminum fuel rails into a wonderfully quick, effective, and reliable whole. His international consortium of perfection-minded fabricators has proven that the boundaries of space and time, and automotive engineering, are meant to be shattered. For that we applaud them, even if they are from another planet.
DISCOVERY AUTOMOTIVE THANKS
Noe Alduenda, BMW Master Technician at BMW of San Diego

BMB corp, Sacramento, Specialty Fabrication

Zeckhausen Racing

Brembo Race Technologies

Pacific Composites, Brembo's US distributor

UUC

Whalen Machine

Koala Motorsport

Vortech Superchargers