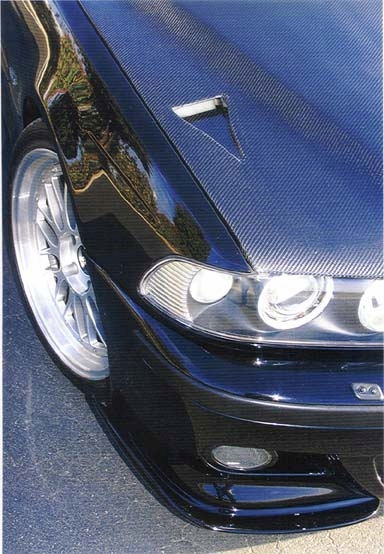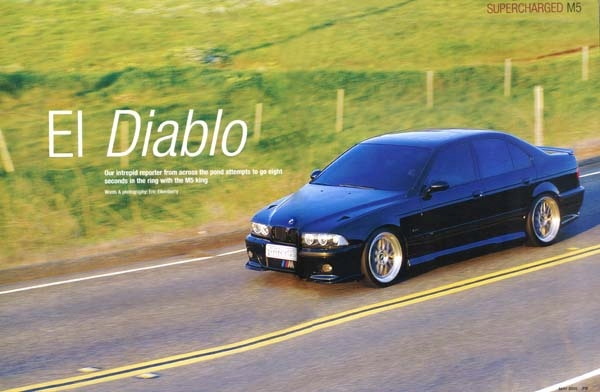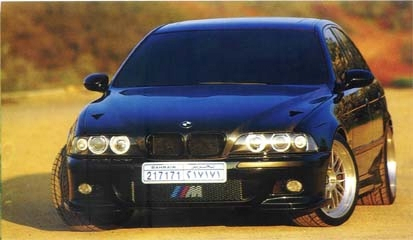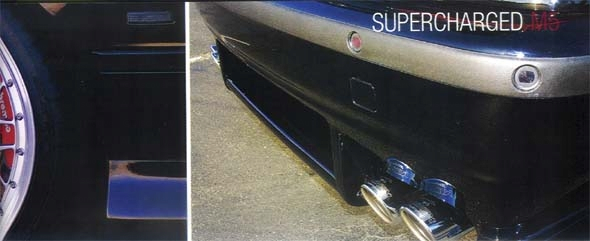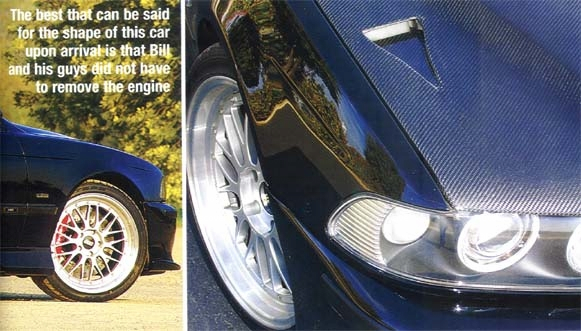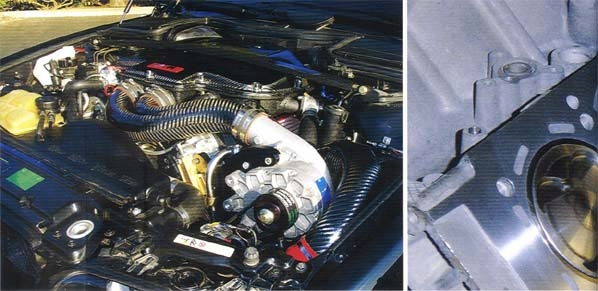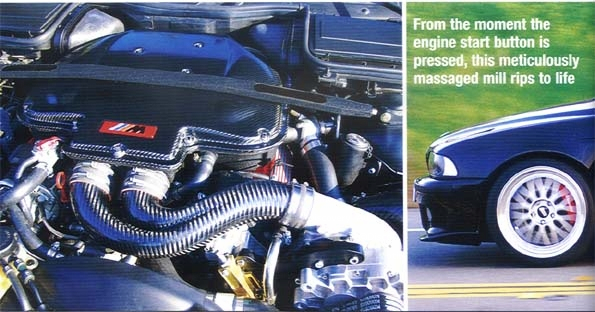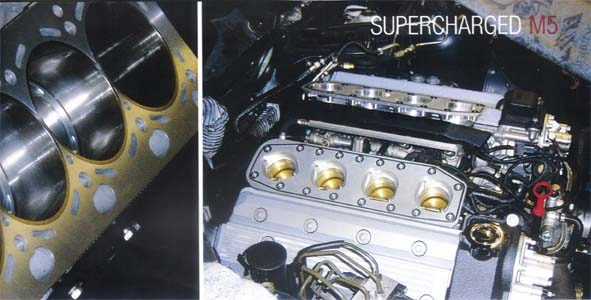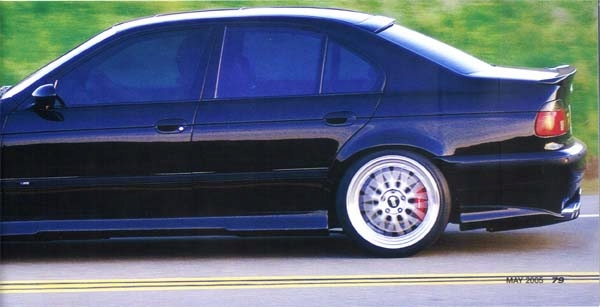 In virtually every rodeo arena in the southwestern United States , tucked away in a distance, dusty corner, in a stall without a sign, there sits the biggest, blackest beast in the stable. Every cowboy knows he exists, and has heard the tales of the untameable . This is the animal on which, on any given weekend, he could cement his reputation as the greatest rider ever. If he survives the encounter. 'Eight seconds on El Diablo,' his mind will whisper seductively. Yet, when the pairings are announced after the draw, every man in the field will, without exception, cross his fingers behind his back and pray that he will not have to be the one chosen to tame this feared black behemoth. Is this car a literary hyperbole or absolute truth? We're here to present the facts.
Shadowman (AKA Bill Knobloch) and his cohorts at Discovery Automotive, located in little-known Placerville, outside of Sacramento, California, are literally and figuratively 'back in the saddle again.' This time, however, rather than simply building another supercharged M5, at the request of the overseas owner their mission was to build the highest-horsepower, fastest E39 in the world, bar none. With such a tall marching order, Bill decided that drastic surgery of unprecedented proportions would be required. Due to circumstances beyond the control of the owner the car arrived at D/A's 'Area 51' facility in a depressingly disassembled state. The total dollar outlay to simply replace pieces would have been more than enough to make a hefty down-payment on the purchase of a new BMW. Call it love or lunacy, but the owner felt such an attachment to this particular car that absolute number (and a general loathing for i-Drive and SMG) meant little.
The best that can be said for the shape of this car upon arrival is that Bill and his guys did not have to remove the engine. A check of the block revealed a crack in one of the cylinders, rendering it an ü ber-expensive cast-aluminum doorstop. A new block was procured and promptly magna-fluxed and blueprinted. Bill's initial inquiry to Darten Sleeves about the possibility of steel sleeves capable of withstanding 20lbs of forced-induction produced cries of, 'it's just not possible.' Fearing that the block's original Alusil lining might suffer under the abuse he was planning, Bill had the cylinders rebored and plated with NiCom. Customer components from the likes of Carrillo and Arias were polished, and flow-matched by VAC MotorSports. One millimeter-larger stainless steel valves and seats were installed, along with new guides, springs, retainers and keepers. Schrick cams handle the increased actuation duties. Carefully hand-assembled by Noe Alduenda, it was anticipated that this engine could handle everything the Vortech race-spec T1 supercharger could possibly throw at it. Imagine everyone's surprise when it couldn't.
Just as bulls have horns and rose have thorns, this project has been fraught with massive technological challenges. The first run-up of the engine produced mysterious bottom-end noises and a less-than-satisfactory leak-down test. A rapid consultation with the manufacturers of the components ensued. Finally, Bill was informed that there 'might be a slight compatibility problem between the high-tension chromed stainless steel rings and the NiCom cylinder linings.' The engine was pulled from the car and stripped, revealing that indeed, this issue had reared its ugly head. Bill again called the experts at Darten, and, after pressuring them for a precise answer as to why he couldn't have this block sleeved, he was promised that it could be done, if the proper machining were accomplished. Arrangements and agreements were made and the block was sent off to VAC's skilled machinists for preparation.
In the meantime, back at D/A's 'Area 51' an entire host of changes was already underway on 'black M5.' Starting from the outside in, from front to back, a carbon fibre bonnet with cooling ducts was manufactured by RNR Composites, with the assistance of Ben Kleinberg. A Hamann Competition rear bumper and spoiler group was selected, along with matching side skirts and front spoiler splitters. The OEM front bumper cover was used as a foundation for a hand-fabricated lower front grill, powder-coated satin black and decorated with the BMW colours and M logo. The rear bumper was test fitted prior to being shipped off to the painter, and an underbody air deflection panel was fabricated to prevent the cover from acting like a giant wind brake at top speed. All of the windows, including the windshield were tinted. This dark horse beauty did arrive from its owner in Bahrain wearing clear front turn-signals, along with smoked side markers and rear tail lamps, so little was required in that department. With the help of XenonDepot in Canada , xenon driving lamps were added to the machine's front valence, adding an additional means for notifying slower drivers of its fearsome overtaking speeds.
As extreme and yet tasteful as the exterior, the interior received no less attention, and in a few aspects, ever more. For example, Bill had the instrument cluster modified by Nowack in Germany to display 340 km/h, to light an LED redline warning lamp at 7500 RPM, and to display the output from the remote-mounted Valentine One laser/radar detector. The dash and centre console trim was removed and sent away tot be refinished in aluminum-look silver. The OEM headliner was tossed away; replaced by Alcantera leather. Auto meter gauges were mounted in a leather-surfaced pot in the centre console. The 'engine start; button from a Z8 was wrangled into an opening in the dash. A few familiar faces make notable appearances; Hamann shift knob, hand brake handle, and pedal set top their respective controls. UUC's excellent Evo 3 shifter and DSSR add an ultra-precise feel to the gear selection. An AC Schnitzer steering wheel, leather-wrapped naturally, was also colour-matched to the aluminum trim finished off with a white-and-carbon-fibre roundel similar to the ones found outside. More Alcantara suede was slathered about on the door trim, completing the luxurious outfitting.
While the various panels were removed for refinishing, recalibrating, or recovering, per the owner's request, the entire sound system was refashioned using top shelf components. First Rainbow 'Vanadium' Profession series CS230 V 5.25" speakers with titanium tweeters replaced the OEM paper-cones. A MKIV DVD/Navigation system was installed in the dash, along with a full-time TV tuner. A rear view digital camera displays the aft view when the car is in reverse. IT can also be selected through the dash controls, sending it signal wirelessly to a 60 gigabyte on board hard-drive. The sound is catapulted from the speakers from two McIntosh amplifiers mounted behind an etched 'Area 51' plexi screen. The Rainbow 12" subwoofer resides in a tuned compression enclosure out of sight behind the amps, but capable of peerlessly reproducing inordinately complex Middle Eastern pop/trance/dance rhythms with little stress. If this weren't enough, the software controlling this rolling nightclub can be accessed using the steering wheel's buttons. Cowboys on bulls have never had it this good.
Foremost though, this is an 'engine car.' From the moment they key is switched to on, and the engine start button is pressed, this meticulously massaged mill rips to life, eager to devour lesser forms of transportation. When the block arrived back from VAC MotorSports, interlocking Darten steel sleeves had been pressed into place and the stout unit was finally ready for boost. Noe, Master BMW technician and a long-time 'Area 51' denizen assembled the engine for a second time using the reciprocating innards carefully balanced by Rex Hutchinson Racing. Bearings were matched from 4 OEM sets for a perfect bottom-end fit. Multi-layer head gaskets and new head and main bolts were utilized to clamp top and bottom into place. Bill took no changes; all 'soft; items such as the water pump, thermostat, and all belts and hoses were replaced. The OEM clutch fan was eliminated, having once proven incapable of reliably withstanding the engine's quick-revving nature.
The standard Discovery Automotive M5 supercharger intake system was utilized, but modified to accept 20lbs of boost at full boogie. The 'safe' level of forced-induction for the S62 motor having been determined to be roughly 08lbs, with proper fuelling and timing control, meant that, in order to handle two-and-a-half times thatr , keeping the charge cool would be a priority. A programmable AquaMist water injection system sprays detonation- cancelling fluid through two special nozzles mounted in the underside of the of the carbon fibre supercharger-to-plenum tube. The air passes through an air-to-water intercooler core before entering the main area of the plenum. Sixteen total customer injectors feed fuel into the CNC-machined aluminum velocity stacks; miniature works of mechanical artistry and unfortunately hidden beneath the carbon fibre air box cover. Not one single system beneath the bonnet was left untouched. If the United States allowed cars to be rebadged in a manner similar to Alpina in Germany , this car would have to be known as a D/A M5! Or, alternatively as it will probably become known in Bahrain, as 'that damn black M5!'
If this list were to stop right here, Bill's beastly creation would still have a place reserved in the BMW Tuners' All-Time Greatest Hall of Fame. IT would stand as a shiny black pantheon to all that overly-obsessive engineering and an equally unfettered imagination can accomplish. But, this list doesn't stop here. Bill had a set of Supersprint 4-to-1 headers finished in titanium then strapped them on to the rest of the SS catalogue; high-flow metal catalytic converters, X-pipe, and a cat-back system. As easy as that sounds, it turns out that the Hamann folks kindly omitted the fact that there was a sizable difference between the spacing of the OEM system, and the openings in their rear bumper. To provide the proper fits, the system had to be significantly widened and new hangers TIG-welded to the chassis. Where there's a Will, a Sean, A Greg, and a Steve (all D/A employees) there's evidently a way.
There are other craggy touches that all less evident. The oil filter and power-steering reservoir were both relocated from left to right. A trick pre-loaded and self-adjusting supercharger belt tensioner eases belt strain on the crank. There's a new oil separator and crankcase breather system, and even stainless steel oil transfer manifolds mounted under the motor. Putting the boost-beefed horsepower and torque to the ground in a UUC Motorwerks Stage III 6-puck ceramic-metallic clutch, lightweight flywheel and upgraded transmission mounts. Koala Motosports upgraded the driveshaft to handle the torque and also modified the rear differential, installing 3.15 rear gears at the same time. The might sound unusual but, with the wheel hop generated by just a stock M5 during a hard launch, this car's owner was not concerned with being the quickest off the line. Outright, eye-watering, overall top speed was the goal, and the 3.15 gears were simply one more means to that end.
Pursuant to control, Dinan Stage 3 suspension with fixed front camber plates, and upgraded front and rear anti-sway bars were fitted. Dinan strut tower braces help stiffen the already-rigid chassis by a touch more. Although this isn't the in-vogue coil-over package most would argue would be best suited to the car, the Dinan setup is irreproachable in terms of feel and ride quality. Every body motion is expertly-controlled by the spring and shock rates. Turns are carved with the inevitable precision characteristic of a Teutonic titan; no tyre ever feels overworked by the car's considerable heft. Certainly this sensation is enhanced by the 19-inch BBS three-piece wheels and Nitto NT555 tyres. Brembo Grand Turismo-series 8-piston calipers press four pads per side onto two-piece 15" rotors in the front. Not to be left out of the fun, four-piston rears grip additional multi-part assemblies of a size more likely to be found on the front of Ferrari or Porsche supercars! Outstanding stopping force is the rule, not the exception here.
So now, to answer the question asked by everyone who has laid eyes on this car; yes, it is the most powerful tuner-built M5 on the planet. Claims of this magnitude are usually met with outright skepticism, distrust and disdain. Bill would certainly agree. With a delivery deadline approaching and an anxious owner awaiting the return of his most cherished automotive baby, Bill strapped this car, and its fraternal twin (yes, there is a second Avus Blue 2001 M5 trolling the highways of Texas ) to a dynometer for final tuning and software adjustments. During one conservative run to 6200 RPM, where the boost had only risen to 10.5 psi, the dyno recorded 540 stampeding horses reached the rollers. Factor it however you like for drive-train loss, but that's nearly 100 horses more than the next nearest tuner's best claim! Bill states that an additional 60 was added, bring the total to a round 600 at the wheels just by nudging the air/fuel ratio a wee bit more toward 13:1 or 14:1, but the risk involved began to outweigh the benefit of a few extra horsepower. The motor still needed another 1000 miles of break-in time before its departure for Bahrain and Bill, ever the conservative one, would only make a peak power pull if he were allowed to thoroughly disassemble the motor once more and recheck all of its specs. Ultimately, the owner indicated his craving for his car took priority over any bragging rights provided by a mere chart printed on graph paper, and, with that in mind, the DME tuning was completed and the dyno day was done.
Proof of Bill's success lies not in the peak on that chart but rather his system integration achievement; flawlessly nailing his target 12:1 A/F ratio. With eight primary injectors, eight secondary injectors, two water injectors, dual VANOS, eight throttle bodies, 9.5:1 compression-ratio pistons, and the host of sensors required to feed information to the machine, a once-simple measurement such as air-to-fuel has become a frighteningly complicated mix of factors. Longevity and driveability were paramount; peak power for advertising purposes wasn't considered for a moment.
In real world terms, Bill's team has built the ultimate mechanical bull. Visually it's equivalent of an Olympic gold-medal-winning weightlifter wearing a black Armani suit: tasteful yet heavily-powerful. With an exhaust note akin to that of a Top Fuel Dragster, the pulses emanating from within seem to shake the ground. Blower whine announces its arrival long before the car can be seen, while its distinctive roar leaves no doubt as to its capabilities. No one asks if it's fast. No one asks if it's expensive. Like those old cowboys looking at El Diablo in the ring, tossing one-glory-seeking rider after another to the ground, observers can be heard muttering in hushed tones, "Now that one's a bad-ass!" We certainly couldn't agree more.