John Emerich Edward Dalberg Acton, better known as Lord Acton of Aldenham once wrote, "Power tends to corrupt, and absolute power corrupts absolutely." A man with four first names ought to know. Of course, back in 1887 "horsepower" was generally reserved for actual four-footed equestrian land-mammals, not meticulously-constructed four-wheeled contraptions. We're positive that Lord Acton never envisioned this 2001 BMW M5 but we can certainly imagine the respect he might have had for a vehicle capable of burning the rubber off its rear tires though the first three gears. Could this be the definitive modern translation of Lord Acton's "absolute power".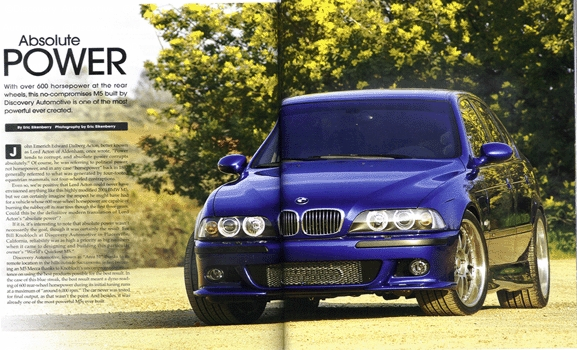 In the automotive world, the number of manufacturers, factory or otherwise, capable of producing a car placing 600 horsepower on the ground can nearly be counted on one hand. If this were a race car, high horsepower and torque numbers would be expected, even preferred. But its not; it's a license-plate wearing, pump-gas-swilling, five-passenger super car on banned-in-baseball performance-enhancing steroids. For Bill Knobloch's Discovery Automotive (www.discovery-automotive.com), a small, little-known band of specialty vehicle constructors in Placerville, California, designing and building this particular owner's "World's Quickest M5" was a project where reliability was as high of a priority as sheer numbers. He has a true "enthusiast's view" of these endeavors. "It is to some degree relative and more important, very subjective. Basic transportation will always be just that, and for most this will forever be their norm... However, for a select few, customized, tuned, specially-constructed vehicles, custom scooters, etc, will always be one of their driving forces; passions to be enjoyed and appreciated for the most part by the person who owns the vehicle. It is for many, a reflection of themselves..." His shop, known as "Area 51" to its employees (an inside joke alluding to its remote location in the forested hills outside of Sacramento), is now fast becoming an M5 Mecca, aided by Bill's uncompromising insistence on only using the best products possible. This blue streak's stunning 600 rear wheel horsepower, achieved during its initial tuning runs (chew on this- the owner has yet to determine its true peak output) at a maximum of "around 6000 RPM" has already marked it as potentially the most powerful M5 ever built, period.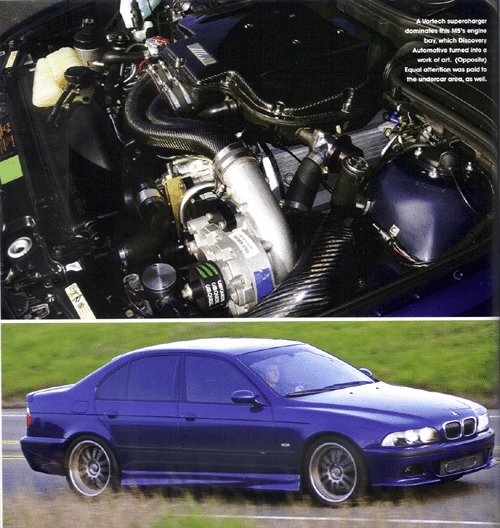 What, exactly, did this entail, other than one gigantic mountain of liquid assets? It required incredible fabrication skills, flawless attention to detail, and boost. Copious quantities of boost! Bill's use of a T-1 trim, race-spec Vortech supercharger is admittedly a bit unorthodox, but for this particular application, very appropriate. Although it could provide up to 20 lbs of positive manifold pressure, Bill fits a custom-sized pulley calculated to generate useful thrust beginning at approximately 2500 RPM, spinning the charger to a peak of 15 PSI just slightly over 50,000 RPM at the engine's 8000 RPM limit. That latter number is not a typo (more on that in a minute). Wary readers should be cautioned now not to blow the b/s whistle too early. Of course, there'd be no way a stock S62 bottom end could be expected to survive such abuse for very long. Bill's solution? Let's just say this work is bound to upset BMW warranty representatives, should they ever find out.

Bill and his crew began the arduous modification process by stripping the engine down to the bare block. Initially it was thought that the cylinders could be "sleeved"; OEM Alusil linings machined out of the aluminum block and steel sleeves pressed into place. This is a standard practice for ultra high-performance motors when high boost, which generates localized high temperatures in the metal will be utilized. When informed that it was "impossible to do" on the S62, Bill was forced in a separate direction. He had the Alusil removed via careful machining at VAC MotorSports, the block cryogenically-treated and magna-fluxed (to ensure no hidden faults existed in the aluminums's crystal-like structure), then re-plated. High-tension chromed steel piston rings were selected and carefully installed by Noe Alduenda, a BMW Master Tech and Area 51 co-conspirator. They were paired with custom Arias 9.5 to 1 compression pistons, custom Carrillo rods, and a micro-polished crank riding in hand-matched bearing from 4 different OEM sets. The entire rotating assembly was completely balanced by Rex Hutchinson Racing prior to installation. The heads were ported, polished and flow-matched by VAC MotorSports, and benefited from the addition of 1 mm larger stainless steel valves and seats, multi-layered head gaskets and new head bolts. Schrick cams were chosen and installed, along with new springs and retainers. Although anticipated to perform perfectly, the engine didn't. An unusual noise was apparent and there appeared to be an oil control issue. Several involved with the project shared that all it needed was a bit more run time however as Bill later stated, he felt there was a "potential ring/lining compatibility issue". Rather than risk complete destruction, the motor was pulled and disassembled, and as suspected, the high tension rings had eaten right through the cylinder coating. Unwilling to abandon the high-tension rings, projected to provide a better seal under boost, D/A was forced into truly radical, uncharted territory; sleeving the S62 block.
Bill holds Darten Sleeves and VAC MotorSports in high esteem as these two companies were essential in achieving his new goal. The torch was passed to Tony and Paul and their machine shop at VAC. Hours of careful measurements and machining later, they had the specs necessary to enable Darten to construct interlocking steel sleeves, which were pressed into place by VAC. The motor was then carefully hand-assembled by D/A and installed, at which time all maintenance items, such as the water pump, thermostat, belts, hoses, and the clutch-mounted fan, were replaced. In the case of the cooling fan, for fear of catastrophic, high-RPM clutch failure (which has happened), Bill replaced the engine-driven model with a high-flow electric unit.
On top of this mechanical smorgasbord of goodies, Bill fitted two custom powder-coated valve covers and lower plenum, a gorgeous custom-made carbon fiber plenum cover, eight carefully-machined, billet-aluminum velocity stacks which contain a total of sixteen fuel injectors and two oil-ring-sealed billet-aluminum plenum mounts (which replace the OEM "compliance gaskets" under the air box). The machine-milled pieces could serve duty in the Louvre Museum as a mechanical art display! The S62's famous "box of plastic snakes" is gone. The industrial-strength, O-ring sealed air box assembly contains, along with the aforementioned velocity stacks and injector rails, an air-to-water heat exchanger core. Its corresponding liquid charge cooler rests in the BMW front air dam, complete with an additional N-EXP RE SS nitrous oxide fogging ring to provide an extra dose of cooling aid. Factory-like Deutsch connectors were used to not only ensure a proper seal, but to achieve an "easily serviceable setup" in case future disassembly should ever be necessary.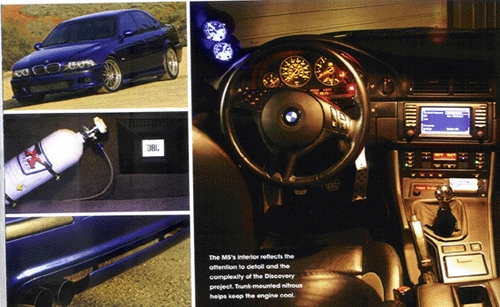 Not content to merely chill the air, Bill also installed a custom programmable Aqua Mist water injection system to control detonation. Complete with a custom fluid tank and a pair of accumulators, two nozzles were mounted into the bottom of the swooping, carbon fiber discharge tube which connects the supercharger to the plenum. The tank hangs out of sight inside the driver's side front fender. An additional carbon fiber in tak e tube runs between the Vortech's inlet and the dual OEM mass air flow meters mounted ahead of the driver's side inner wheel liner. The well-supplemented engine fires its cannon-like exhaust through custom-coated Supersprint 4-to-1 headers, custom HJS metal catalytic converters, a Supersprint X-pipe, and a Kellener sport exhaust. The resultant sound is exhilarating; equal measures of Top Fuel funny car and European refinement mixed with straight-forward American know-how.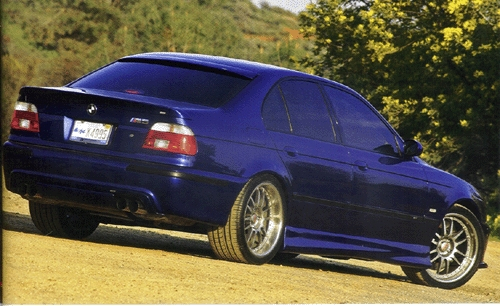 Clever and deviously-mischievous bits are scattered everywhere like the brilliant offspring of a mad scientist. The billet lower pulley incorporates the supercharger's belt. A pre-tensioned and self-adjusting drive-belt tensioner prevents unwanted force from supercharger being exerted against the engine and then a unique bank of programmable vacuum switches control the by-pass valve so that unwanted pressure is redirected when the accelerator is lifted. The oil filter and power steering reservoir were relocated from left to right to make a new, happy home for the significantly-large and imposing Vortech unit. Bill even left the "Caution: For Race Use Only" sticker in place on its housing, daring casual under-hood observers to ponder its meaning. A custom oil separator and crankcase breather system was installed, and stainless steel oil transfer manifolds were mounted under the motor. The final touch would be the Aeroquip lines and fittings threading purposefully around the engine bay. Viewed from above, the overall effect is as clean as a factory design study or one-off prototype.
Lest you think the modifications stopped at the firewall, it should be noted on this overbuilt M5 that they do not. Not was a single system on the car left untouched. The clutch, for instance features UUC Motorwerks Stage III 6-puck ceramic-metallic disc and a lightweight flywheel, and is based on the stout unit shipped installed behind the 850-series V-12 engines. Transmission mounts were also sourced from UUC, and were installed along with a Koala Motorsports custom driveshaft and 3.45-geared rear differential. A rear sub-frame brace was also added to cope with the car's prodigious torque and horsepower.
Jim Conforti at Tiburon Development, Inc, and Wayne and Sam at PowerChip all had a hand, along with Bill, in the creation of the unique DME package which handles not only the standard engine functions, but also the 8 additional fuel injectors, the water injection system, and the knock sensor input. This comes from an HKS air/fuel Knock Amp system, which uses two wide-band oxygen sensors to provide more finite control of the mixture (a critical component for boosted longevity). Ignition Solutions Plasma Coils fire eight NGK Iridium spark plugs reliably to the engine's new 8000 RPM redline. The instrument cluster in the dash was modified by Nowack in Germany to display the increased limit, and to show speeds up to 210 miles per hour!
To aid the car's passage in quest of that top speed, AC Schnitzer front winglets were painted a matching Le Mans Blue and installed on the factory bumper cover/front air dam. Their additional down force is matched by a Schnitzer rear window spoiler and a subtle three-piece rear lip. Bold Rieger GTM side skirts clean up the view from the side, hiding underbody components and blocking air, preventing lift at speed. A nearly-hidden rear lower diffuser from AC Schnitzer, mounted in the center of the rear bumper adds yet more down force as straightens the air flowing from under the car. Overall, this package makes a remarkably stable chassis even more so, resulting in extreme velocities normally reserved for small aircraft.
Equally important to this car's astounding road-devouring capabilities was the rare AC Schnitzer DFC suspension, with its electronically-adjustable shock dampening. Although it is a seldom-seen addition to an M5, due in part to its cost and to the fact that the BMW bits do a wonderful job straight from the factory floor, the DFC offers three distinct adjustment settings; sport, intermediate, and race-track. "Sport" is more than adequate for ninety-five percent of the driving most people do, and our time in the vehicle proved to be no different. The voltage-controlled, electrohydrolic fluid did an amazing job of soaking up the area's considerably rough pavement, providing an otherworldly-smooth feel. Eibach front and rear anti-sway bars are clamped in place by TC Design brackets, eliminating the weaker OEM-style securing system. The result is incredible compliance yet telepathic control in the corners. The M5's noted understeering tendencies, at real world speeds, are tamed. At no time did the suspension become harsh, or bouncy; it always performed the exact action requested by the driver without complaint. A 500-mile stint in this road-rocket simply leaves the driver ready for the next stretch of roadway.
Another visible nod to its overt performance intention is the set of OZ Superleggera III 3-piece 19" wheels. An excellent combination of strength (forged centers) and light weight (press-rolled outer rims and titanium fasteners), their stylish split 6-spoke design offers a useful alternative to the chromed "dubs" currently in vogue. Bill worked direction with OZ Racing in Florida to ensure the offsets for the 9.5 inch wide fronts and 10.5 inch rears would fit perfectly in the arches without any rubbing. Wrapped around the outside are Bill's favorite tires; Pirelli P-Zero Rossos in pavement-rippling 275/30 and 295/30 sizes. Brembo GTR series brakes provide a serious counterpoint to the engine's prodigious thrust. Two-piece 15 inch front rotors are clamped by hefty 8 piston calipers (with 4 pads per caliper to more evenly spread the pressure on the disc). At the rear two-piece rotors measuring a mere 13.5 inches are fitted along with Brembo's more traditional 4 piston calipers. The close attention paid to piston sizes ensures that no changes need to be made to the master cylinder and, coupled with the kit's set of Earl's braided stainless steel brake lines, translates into an incredibly deft pedal feel. In spite of the car's ludicrous ability to pile-drive the speedometer deep into the triple-digits, the Brembos never feel overworked.
Not to leave anything out, it must be mentioned that even the interior received thoughtful treatment. First, the shifter knob and emergency brake handle were swapped for the more attractive RK5 set from UUC. Underneath the leather gear shit hides UUC's slick Evo III shifter and DSSR (direct short shift rod). Just ahead of this sits a custom panel which holds the controller for the suspension and the HKS Knock Amp system. Carbon fiber inserts dress up the factory leather-wrapped sport steering wheel. Blitz BLM-series boost and exhaust gas temperature gauges are hung in a custom-covered A-pillar pod. Additionally, there's a crossover control for the hidden trunk-mounted subwoofer and amplifier, and higher up, next to the instrument cluster, is a low-level warning LED for the water injection system. Titanium pedals and custom "Supercharged M5" floor mats spruce up the dark confines under the dash. Not as easily seen is the micro switch attached to the gas pedal which activates the nitrous oxide intercooler chilling loop visible in the head-on photos. The master arming switch and purge button is mounted in the center console, hidden out of sight. Bill's crew even added an extra 12 volt accessory outlet in the glove box; the perfect place for to keep a cell phone charge cord.
While Bill and his Discovery Automotive employees are directly responsible for the final appearance and performance of this vehicle, he's immeasurably modest, insisting that an entire horde of talented specialists around the world should share credit. Just as a master chief doesn't grow the vegetables and fruits he uses to whip up a signature dish, Bill has to farm out the fabrication of the individual aluminum and carbon fiber parts used in the installation. The quality he receives in return is simply amazing. Wherever possible, his design ensures that the vehicle can still be serviced by a BMW repair facility without the need for gasket replacement. In today's increasingly disposable world, this is a welcome approach. At Bill's shop, you still "get what you paid for". It's the sort of "American ingenuity" which once made the phrase "Made in the U.S.A" a mark of distinction.
Interestingly enough, this road rocket was built side-by-side with another enthusiast's M5 from Bahrain . Through their friendly banter on www.m5board.com , these two owners kept goading one another on in a supercharged variant of the Cold War arms race. These two "Thunder Twins" share identical engines and superchargers, but vary wildly in terms of suspensions, interior equipment and final drive. This is the result of each owners intended use. The offshore M5's owner wanted to be able to cruise at 200 MPH in his home country of Bahrain . As of this writing, that particular car has been piloted over 300 KPH (188 MPH!) repeatedly with 3 passengers on board, and once to an indicated 320 KPH (200 MPH) on the custom-recalibrated speedometer! Several of those runs were made while Bill occupied the passenger's front seat, during his "delivery and tuning visit". With a much shorter final drive in the rear differential, the U.S.-based "Twin" won't see those top speeds, but can certainly lay claim to the owner's goal of "the world's fastest" M5: "The car is very, very streetable below about 3000 but after that it is an absolute monster... it tak es no less than 4 seconds (to reach 150) from 80--- honest!".
So is this, then, absolute power? Let's review: a blisteringly-fast BMW, with the accelerative force of a rocket, a whine similar to a jet-engine under the hood, a deep and absolutely intense exhaust note more like dragster than a European luxo-sedan, combined with super-car levels of stopping force. It is, most simply viewed, the most fearsome M5 in the United States ; a race-car wolf in street-car guise. Undeniably unique and capable of holding its own on a show circuit or race track, it stands as the lone U.S. representative of the pinnacle of today's tuning technology applied in a cost-no-object manner to BMW's former executive flagship. A crowd of interested onlookers gathers wherever it stops for fuel. Its thrust reduces grown men to giggling, irresponsible children, seeking out every straight road in the vicinity. If indeed, as Lord Acton surmised all those years ago that absolute power corrupts then we feel the need to be corrupted in this very manner. We'll take two, please!