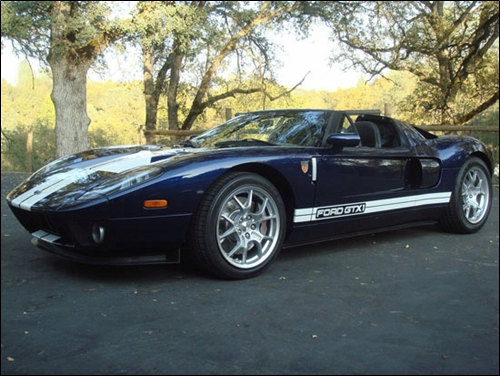 Blue Thunder
"Blue Thunder" or at least this is who she will be when she leaves our facility because this rather unique Genaddi Design Group roadster conversion known as the GTX-1 came to us for a voice change.

The owner contacted us sharing that as stunning as his gal is to look at and to drive every time he fires her he cringes as she simply does not sound as she looks. For most when looking at her they get the sense of raw visceral wind in your hair horsepower and yet when she is brought to life she sounds a bit anemic. Now do not get us wrong; there is no doubt that she is both quick and fast however she does not have the voice that conveys this message to the casual onlooker or to the owner. As the result of this numerous exhaust systems were considered and in the end the decision was made to install the Stainless Works system. The system being installed includes ceramic thermal coated long tube headers; small metal bed cats (however the idea of cat delete pipes is being discussed), and then the custom bumper delete "H" pipe at her rear. Now only will the new system being installed sound befitting of the gal but is also looks "stunning" too.

In addition to this we will be tending to a few other personal wishes as presented to us by her owner.
Sections
Phase One
Well after much discussion the decision was made to fit the gal with both small metal bed cats and cat delete pies aka test pipes so that the gal's owner can fairly easily swap between the two of them depending on whether traversing through town or at speed on the track. As such there is no doubt that she is appropriately referred to as "Blue Thunder".
Phase Two
Now with the summer in full swing the gal returns for her final fitting of her removable canvass top; certainly the top will serve a purpose during less than ideal weather conditions however at this very moment we suspect that it will be used and enjoyed for the shade it affords as well as the ability to use the gal's air conditioning system. In addition to integrating the removable canvass top we will fabricating and integrating a second set of baffles within her exhaust as the means to further reduce her bark. It will be during this process that we will install a new style H pipe aka the rear tip section that has a flex joint in-between the two pipes that allows the exhaust to remain a bit more relaxed during the thermal expansion process and then at the same time we will be reducing the tip length by an inch to create more aggressive/cleaner look.
Videos