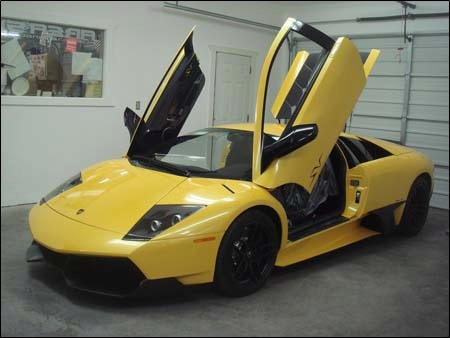 SV
Under the proverbial radar akin to the cloak of darkness this gal a Murcielago LP670-4 SV (SuperVeloce) comes to us as notably and recognized internationally as the "baddest" and maybe even the "maddest" Bull of all times. She is more powerful, lighter, and she is also the fastest Bull to ever be unleashed by Lamborghini. From the moment that she rolled into our facility it was obvious to all that she was purpose built and means business.

This particular gal is one of the 4 gals that the Lamborghini Factory hand selected and then flew over to the USA within a 747 to present to this country for all to feast their eyes on however they were not presented as for sale. It is because of this that before she could be purchased by a private party the Lamborghini Factory had to give their blessing as such having her spend some time with us is very special.

At this time we are going to methodically protect all of her high risk painted surfaces with plastic film insuring that she remains fresh and crisp looking even after being exercised however long before she will be exercised the methodical break-in process as presented by Lamborghini will be followed and yet we are confident that once this process has been completed that she will be exercised and in doing so her voice will be heard. We have been told that in addition to looking mean she sounds flat out scary.
Sections
Phase One
Before we began the processes involved to wrap all of her high risk painted surfaces we took a several pictures so we could get to know her and also evaluate the methodology to be used when wrapping her. Here are a few of the pictures taken that we feel are worthy of sharing and in doing so makes clear that the processes to wrap this gal will be completely different when compared to a Mucielago LP640.
Videos