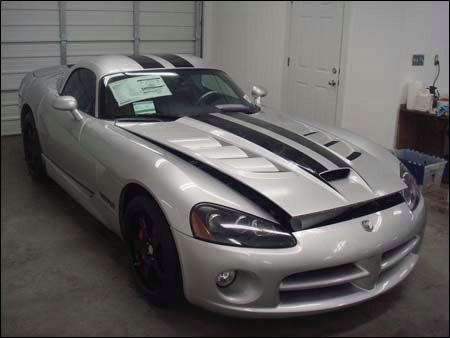 Out of the Pit
This gal was found in a pit appropriately in the Southwest and when we made mention of her we were asked to quickly capture her before another could and to bring her into our facility to be massaged a bit; all of this prior to her new owner meeting her for the first time.

We did as asked as such she aggressively slithered into our facility happy to be out of the den and yet still uncertain what her future holds. This we know; her new owner is very passionate about the gals in his family and that she is about to embark on a wonderful journey.

During her stay with us a laundry list of personal touch and performance enhancements has been slated some of which include; 3.73 gearing to make her far more frisky and enjoyable to exercise, ACR suspension as offered by KW to compliment the ACR wheels and ACR brake system that she was originally outfitted with as part of her limited edition package aka VOI 10. She will be lowered a bit and the suspension tightened up to make her even more aggressive when being piloted through the twist and turns. We are going to shorten her shifter action so as to make the process much more crisp and we are going to integrate a V1 harness so as to make certain that all aware of the folks watching her while being exercised. Now add to this an automatic fire suppression system is being designed and likely integrated so as to protect her and her owner just in case of something unforeseen and then to protect her appearance over time and make it easier to keep her looking as new we are going to wrap her nose and other at risk areas with plastic.
Sections
Phase One
Here we have washed the gal and made her ready to have the custom clear bra methodically installed. For every new model within a given marquee we do several test fits prior to installing the product on a customer's gal so as to insure that we get both the best fit and coverage. If there is a single trick to wrapping a gal in plastic this assuming that only the best products available are used it is the application because the product will stretch and in fact needs to be so as to properly conform to the curves and yet we need to make certain that the results are a finish that is clear and free of stretch marks and maintains the OEM's brilliant painted appearance.
Phase Two
We have continued to tend to numerous phases of this project as bits and pieces arrive and or are created while others continue to be on hold through Dodge. At this point we have completed the mock-up of the automatic fire suppression system, dry fit the new cats, integrated the 2" lowering system for the driver seat, begun the process of relocating the gateway module, and installed fresh fluids in her rear end now assembled with 3.73 gears.
Phase Three
Finally after far too many months to remember we were able to procure a set of Factory OEM ACR shocks for this gal; this was a defined "must have" from the onset as such we relentlessly continued to look for them. There were moments in time when we were told that they would be here, one time in fact when the fronts arrived however until this moment in time we never saw a set of rears. There is no doubt that the trouble associated with the acquiring of these shocks was as the direct result of the big three debacle as such chaos and uncertainty because the daily norm however never giving up and the customer having extreme patience insured that success would finally be experienced as a complete set of Factory OEM ACR shocks were located and as evidenced below they have finally been integrated onto this gal.
Videos