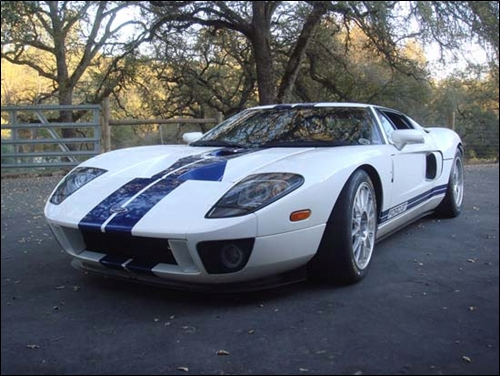 White Lightning
This gal was brought to us after many miles of smiles with her owner at the wheel during which she has remained a thoroughbred each step of the way; this remained the case whether they were simply traversing through town or when she was being exercised under the most extreme of situations on a track.

During her life she has already been outfitted with numerous personal touch and performance enhancements such as a Whipple supercharger, a free flowing exhaust, custom Penske remote reservoir shocks at all 4 corners during which time she was also lowered and a more aggressive alignment was completed, Ford Racing short shifter, Ford Racing transaxle cooler, lightweight wheels with Goodyear racing tires, a custom automatic fire suppression system as designed by Shadowman, and the very cool rear bumper delete system that fully exposes her hips to the world. There is absolutely no doubt that this gal and her owner like to play together.

This season was an eventful one with her participating in the National Ford GT Rally as well as numerous club based track events. In her case she likes the road courses as does her owner. It was at the end of this season that she developed what was initially considered to be a minor hiccup however in the end it turned out to be a bit more significant. It is as the result of this that she will undergo deep massage therapy.

Our plan is to look deep inside and see what is troubling her and then at the same time see if we can make her even better aka happier than before.
Now considering that Ford presented these gals with a heart of a lion this is a lofty goal and yet we suspect that there will be something we can finesse a bit more.
Sections
Videos
Behind the Wheel
Here she has been fired with her owner comfortably behind the steering wheel; the moment is finally here.
Brought To Life
Here she is having been brought to life as she is made ready to be migrated out of the facility; there is no doubt that her owner is happy and ready to go play.
Custom Cams
Here is a short video clip of her brought to life cackling with her custom cams through her custom exhaust making it audibly known to all that she wants to and enjoys being exercised.
Journey Home
Here she is beginning her journey home screaming good bye to all that she passes.
Looking the "9s"
Here she is being migrated out of the facility for the first time since she arrived sounding wicked and looking the "9s".
Warm Up Cycle
Her she is sounding wicked as ever as we allow her to operate through a complete methodical warm up cycle. Now even though the new custom Burns Stainless mufflers take the edge/bite off her voice there remains no doubt to all that she is able to and likes to be exercised.
Warmup/Cooldown Test
Here she is barking away as we begin the process of collecting operational data so the manipulating bits and bytes can be completed thus making her happy with all of her new hardware. At this point she has already been through a couple methodical and complete warm up/cool down cycles confirming that we have no issues; and we might add that there is no doubt that she wants to go play.